{{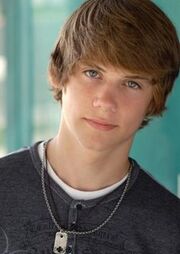 Actor |
 name =Tony Michael Oller |
 image |
 gender =Male |
 birthday =February 25, 1991 |
 age =24 |
 cntry =United States  |
 occup =Actor/Singer |

}} Tony Oll er portrayed Danny in the 2007-09 Disney Channel series As the Bell Rings (United States). He is a 19 year old American actor and musician who was born on February 25, 1991. In Season 1 he starred opposite Demi Lovato and they sang a duet in the "Talent Show" episode. He made three music videos for Season 2 of the show. The first song he sang was, "Could You Be The One", which was premiered on August 2, 2008 on Disney Channel, followed by "Here I Go" and "All You Gotta Do". He is currently appearing in the new Teen Nick show called "Gigantic", premiering in Fall 2010.
Filmography
Edit
| Year | Title | Role | Notes |
| --- | --- | --- | --- |
| 2010 | Gigantic | Walt Moore | |
| 2008 | As the Bell Rings | Danny | |
| 2006 | I Flunked Saturday School | Lloyd | |
Discography
Edit
Year
Title
2009
"All I Need" (Release date: 2009)
2008
"Could You Be the One" (Release date: 8/2/2008)
"Here I Go" (Release date: 9/12/2008)
"All You Gotta Do" (Release date: 10/18/2008)
External Links
Edit
Ad blocker interference detected!
Wikia is a free-to-use site that makes money from advertising. We have a modified experience for viewers using ad blockers

Wikia is not accessible if you've made further modifications. Remove the custom ad blocker rule(s) and the page will load as expected.