Tiffany Blake (played by Carlson Young in As The Bell Rings) is Brooke Nichols, Charlotte Adams and Lexi Adams's best friend. She likes helping others, even though she might not be the best to, but she often portrays signs of extreme smartness.
Character Story
Edit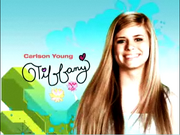 Tiffany is a stereo-typical "dumb-blonde" and the most popular girl in the school. She grew up with Brooke and Charlotte and they're all best friends, she remains close with Charlotte after she moved and eventually became close with Lexi. Tiffany's secret admirer is Skipper.
Romantic Life
Edit
Skipper Adamson
Edit
Skipper has a huge crush on her, but she doesn't know it. But in Skipper's Away, it is proven that Tiffany might like Skipper when she tries to get his attention when Skipper falls for Lexi.
Tiffany has ornithophobia, the fear of birds. This was known in The Mascot when Skipper tried to impress her by being the school mascot, an Eagle.
Tiffany has a grandmother named Francis.
Ad blocker interference detected!
Wikia is a free-to-use site that makes money from advertising. We have a modified experience for viewers using ad blockers

Wikia is not accessible if you've made further modifications. Remove the custom ad blocker rule(s) and the page will load as expected.