As the Bell Rings (Australia)
Talk

0
583pages on
this wiki
As the Bell Rings


As the Bell Rings title card
Country of origin
Australia
No. of seasons
3
No. of episodes
66 (List of episodes)
Production
Running time
Approx 2-5 minutes
Broadcast
Original channel
Disney Channel Australia
Original run
2007 – Present
-
As the Bell Rings is aired on Disney Channel Australia. It is an Australian adaption of the Disney Channel Italy Original Series Quelli dell' Intervallo. Its name is based on the show As the World Turns. Each episode ends with credits and bloopers that happened on the show while they were shooting "As the Bell Rings".
As the Bell Rings is set at Patterson High and began its second season on January 2, 2009.
tina 27.253.15.86 05:42, August 1, 2012 (UTC)paige
Theme Song Lyrics
Edit
Season 1 -
Raff, Jonesy, Amber, Annie
Parker, DJ, S.A.M. the Spy,
Spud, Hayley, Rusty, Rocky!
We all go to Patterson High!
School is great, but breaks are better
When we all meet to mess about.
Where everyday is mufti day
And break time's when we shout aloud!
So come on and join us as the bell rings.
We're laughing, joking, chatting, and flirting.
It all starts with the bell!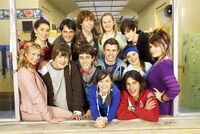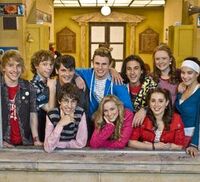 Related Articles
Edit